One year and 1000 Followers!
6:00:00 AM
ok well almost...
(I'm having a little trouble with the followers gadget, it has been going up and down every day.
I sure hope it makes it to 1000)
I just want to say Thank You!
For your encouragement and support!
Today is the 1 year Anniversary of the day I started my blog with this post...
Looking back at it now, that was
one rough first post! At the time I was posting only about once every 2-3 weeks. Back in January I made a very scarey but sobering discovery.... I deleted all but 2 of my posts from October through January!!!
You can read about that blunder here!
I've

loved

every post, every project and every sweet comment. I've gotten to know some of you pretty well...

virtually that is...
I've cherished your inspiration and your encouragement!
I've hosted one Linky Party and three Give Aways... and would you believe the same person won two of them???!!
I opened an Etsy shop called
Homeroad the Store
and sold a whole bunch of things
I created and or thrifted...
(I've gotta get back to work on this one!)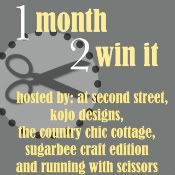 I participated in One Month to Win It and took 3rd place!
You can read about that here, here and here!
I'm looking forward to another great year of a balanced life with my daughters, my husband, my job and my creative outlet...
Homeroad
Thanks again so much my friends!
xo Susan